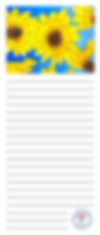 Product images not to scale.
At KidsArt, we take artwork created by the kids in your school or organization and transform it into beautiful art fundraising products that your families can purchase. Every child designs their very own items. We work with organizations small and large — entire school districts are among the largest.
We know that fundraising with an entire school district can be challenging. If you're considering an art fundraiser for schools in your entire district, then you may have particular challenges or concerns that you're worried about. Having worked with large school districts, KidsArt can help!
From a district-wide perspective, you're probably wondering about logistics. Some fundraisers can be complicated, especially when you're organizing them across multiple schools. We designed our art fundraiser to be simple and consistent, so that it scales from small organizations to entire school districts. Here's the fundraising process:
Order Picture Forms
Draw Artwork on Picture Forms
Collect Orders from Families
Submit Your Group Orders
Receive & Distribute Products

Ordering Picture Forms
For large schools, KidsArt typically provides Picture Forms on which participants can draw their artwork. By utilizing a Picture Form, we provide you with a consistent process for acquiring artwork to be used in your kids' art fundraiser. As a result, you're not dealing with large amounts of varied pieces of artwork.
Typically, we send two Picture Forms per child free of charge. If you're ordering as a school district, we can either ship all of your Picture Forms to a central location (for instance, your home) or directly to each of the schools in your district.

Drawing Artwork
When drawing artwork for your art fundraiser, you'll want to consider a few questions such as where, when and how.
We recommend that schools draw artwork in the classroom prior to sending home a letter asking parents if they would like to purchase. Typically, schools receive better fundraising results when they utilize this method because it completes the project in advance and you therefore only need to ask families to order the products.
The alternative is to send home a blank Picture Form and ask parents to help their child draw a picture, but this method usually produces lesser results (people are busy!).
Some schools, organizations or PTAs really like the idea of giving parents an opportunity to interact with their children on the fundraiser, and there's a hybrid method that works well for such schools and organizations: draw one picture in the classroom, and let families know they can request more forms to create alternative or additional pictures. That way, parents have the opportunity to complete the project with the children. Additionally, parents may wish to let siblings who don't attend one of your schools participate and making additional Picture Forms available upon request enables parents to do so.
If you decide to draw the artwork in the classroom, it's the perfect opportunity to integrate the program into your art curriculum and provide an educational component to the fundraiser. Due to the educational opportunities that KidsArt's fundraiser presents — in addition to helping raise money — many schools administrators are happy to help PTAs or PTOs integrate the fundraiser into the classroom or other school activities, for instance by providing art instruction time. Your art teachers may want to consider using the project as an opportunity to teach a particular art technique or explore a particular topic.
If you're not already utilizing KidsArt's fundraiser to raise money for the art program, you might consider designating a portion of the fundraising profits to benefit the school's art program — the art room always needs new supplies!

Collecting Orders
We make it easy for your organization to compose a letter to send home to your families asking if they'd care to purchase by providing a
customer letter creator
on our website. Simply follow the prompts, deciding things like which products you want to offer and at what prices. Digital letters will be generated that you can print on your end.
Complete the process for each of your schools.
Simply send your letters home (we recommend including the original artwork so that parents can preview it) to collect orders from your families.
Typically, this process will happen at each of your district's schools, and parents will submit their orders back to their child's school.

Submitting Your Schools' Group Orders
We provide downloadable
Group Order Forms
and
Group Lists
for organizing your artwork. Each school should complete a Group Order Form and as many (or few) Group Lists as they need to organize the artwork by grade and/or teacher or any other sequence that will facilitate distribution. We use your Group Lists on our end to organize the products for each school so when the completed products are received they mirror the sequence on y our list, making distribution easy.

Receiving & Distributing Your Fundraising Items
To accommodate school districts, we package each school's set of orders separately. Additionally, we can ship all of your school orders to a central location or each order can be shipped to one of your schools.
We follow your Group Lists for each school when packaging your fundraising products, so distribution will be a breeze when your order arrives!
Benefits of Fundraising with KidsArt
Treasured
Parents will treasure KidsArt's fundraising products because the art is the star of each product.
Educational
A KidsArt fundraiser provides an educational opportunity to incorporate art instruction into your fundraising efforts.
Creative
Creativity is encouraged! Students will enjoy having a creative project that utilizes their imaginations.
Profitable
We've helped thousands of schools & other organizations collectively raise millions!
Inclusive
We provide a range of fundraising products at varying price points to make participation more inclusive.
Experienced
We've been in business since 1996 and know how to help schools & organizations run a successful fundraiser.
Interested in KidsArt's fundraising program?
Request Samples
Start Fundraiser